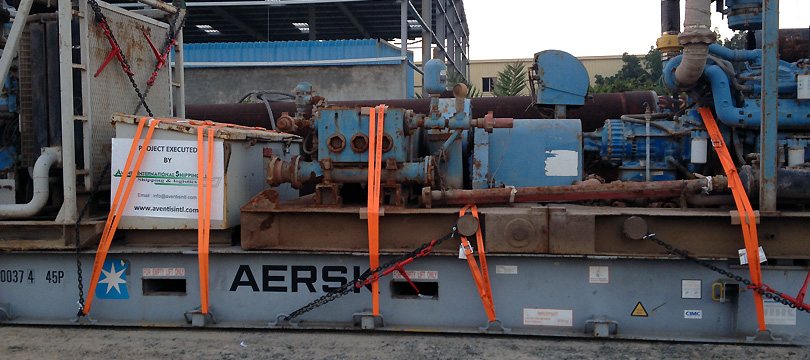 Experience counts when it comes to handling complex projects and movement of oversized and heavy-lift cargoes. Managing complex transportation for large scale projects requires experienced, intelligent and knowledgeable personnel who are committed to researching all options, surveying, potential problems, physical and non physical obstacles and reacting to extraordinary circumstances with quick and decisive actions.
In this regard Aventis International can provide you the unmatchable services as we just do not take your project as an ordinary project but consider it as a priority project and. That is why Aventis International work on each individual Cargo Project in systematic manner and break down project logistics and transport into essential elements, and then to assign direct supervision over each. Advance trips by our Projects Operations Specialist to the key points in the project corridor ensure that Aventis International has the first-hand knowledge required to "make things happen". A Project Coordinator is then assigned to manage all facets of communication, logistics and transportation operations and becomes the direct liaison with our customers.
The success of Aventis International Project Logistics lies in its commitment to understanding what is required. Our specialist advisers become fully conversant with the requirements of a project and ensure that customer-specified deadlines, HSE aspects and special instructions are strictly adhered to.
Aventis International specializes in project freight management and all associated planning and implementation services. Whether you are moving an individual heavy lift or complete industrial plant from various origins around the world to remote construction sites, we arrange for customized transportation concepts for the entire route on a door to door basis.
Aventis International project logistics services include the following:
Customer tailored transportation consultancy.
Project logistics feasibility studies.
Road studies.
Project logistics budget and planning.
Project flow descriptions.
Cargo supervision during loading and unloading, as well as in transit.
Full/Partial charter by ocean and air.
Consolidation, packing, crating and containerization.
Purchase order management and cargo tracking.
Transport Insurance.
Oversize cargoes transportation.
Heavy loads.
Barge Service.
Module Movement.
Pre shipment inspection.
Cargo surveying.
Customs and shipping documentation.
Aventis International has a proven track record of Project Forwarding & Logistics. We have moved and helped in the erection of huge pieces of Plant & Machinery, some weighing as much as 320 metric tons apiece. Thus, we provide break bulk cargo services that are not dependant on the size of the cargo. Be it any shape or size we are capable of giving you a very good experience in terms of high quality services in project cargo handling. We understand that businesses require heavy bulk cargos to be carried and they want it to be timely delivered as well, therefore our services include break bulk cargo services, with which you can have your bulk cargos transported to its destination in time. Such kind of cargo services are not that easy to handle. It requires proper planning and management by the project logistics provider to handle all the activities include in this process. However, we at Aventis International understands clearly all this complexity involved and we take all the require measures to provide assured services.
Our expert staff makes all the calculations based on the heavy size of the break bulk cargo and make specific arrangements for effective services. Complex projects requiring route surveys and construction of special roads to handle such humungous projects are within our domain of expertise by virtue of our past experience and those of our overseas associates some of whom are entirely specialized in Project relocations. You can expect timely delivery of all sizes of cargo from us. We have provided excellent services to our clients with our careful management and planning for the project logistics. We are equipped with the expertise and experience that is required in moving heavy bulk cargos to any place. We assure quality service in project logistics and break bulk cargo and we prove it with our past records as well.