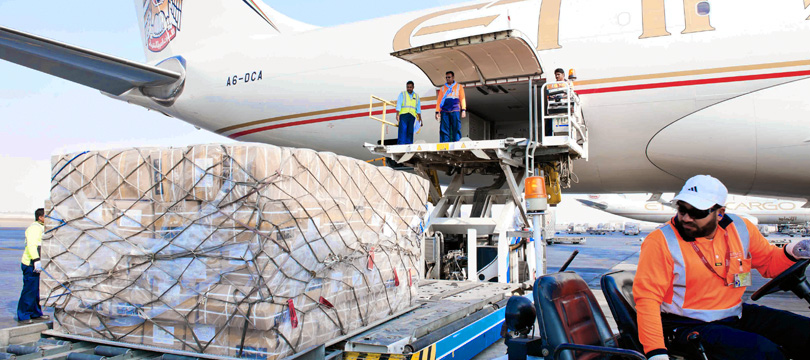 Aventis International is able to draw on its proven performance as an air freight forwarder to select the most appropriate routes and the most suitable packing methods and transportation environments for each type of cargo. Aventis International also provides a high-performance of air transportation service for a semiconductor equipment and pharmaceutical products, which require a sensitive and special handling of transportation.
When it comes to air freight shipping services, no one does it better then Aventis International, We at Aventis International hold customer satisfaction at the top and make it our motto when we deliver. We are amongst the best air-freight companies not just in Dubai but in the world and few can match us when it comes to our air freight cargo shipping and international air freight services.
The Air Freight Division of Aventis International offers sophisticated and innovative Air Cargo services with its home base at the Dubai International Airport Cargo Gateway (Dubai Cargo Village). The Air Freight team is rated as the total logistic solutions provider and a trusted partner for Air Cargo Management. Our expertise of import and export requirements, customs regulations, licenses, consular documentation and payment practices can guide you to achieve optimum results in the Air Freight operations.
Moreover, we at Aventis International are extremely flexible and are always coming up with customized solutions for various air freight shipping needs of our customers. In fact, our ability to design, innovate and customize solutions for a variety of logistical needs of our clients is what keeps us in the league of the best air freight companies in the world.
Our highly efficient staff takes stringent measures to ensure the safety of the cargo at every step of transit.
The Services Offered:
Air Freight (Export / Import Consolidation)
Multimodal Operations (Sea / Air, Sea / Land Management)
Projects Cargo handling
Perishable Cargo Handling
Ship Spares movement
Aircraft Chartering
Clearing and Forwarding
Door to Door Service
Customs clearance and delivery
Supply Chain and Logistics Management
Cargo General Sales Agent
Our Strengths:
Partnerships with an exclusive network of agents worldwide
No restriction on size of cargo and airline option
Online customs clearance and freight booking facility
Acceptance and handling of dangerous goods cargo
Bonded warehouse facility at Dubai Cargo Village